SVLT Conservation Bridge Project
THIRTY YEARS LATER: CONSERVATION EFFORTS CONTINUE IN BIDDEFORD
As Saco Valley Land Trust celebrates its Thirty Year Anniversary, the Trust is announcing the purchase of  40 acres of woods and wetlands off Guinea Rd. in Biddeford.  This purchase is the first acquisition of its new Conservation Bridge Project, an effort to link twelve easement and fee parcels that we have already conserved within the state-designated Biddeford/Kennebunkport Vernal Pool Complex.  Located in the area around the intersection of West St. and Guinea Rd. in Biddeford,  these twelve lots or easements were acquired through donations by landowners, developers and the City, through private foundation funding and federal grants: around 500 acres.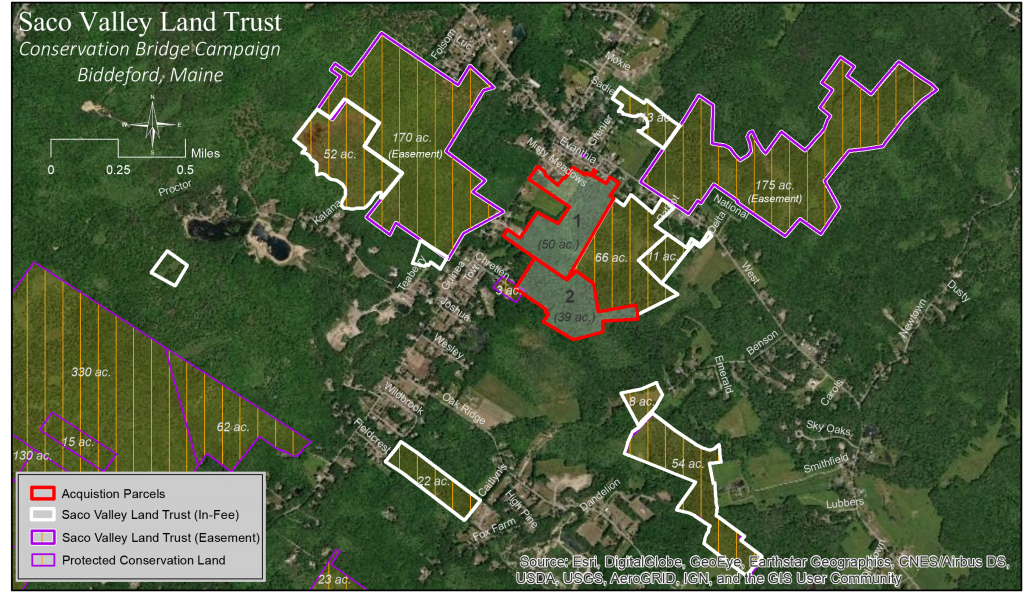 Because of its unique geological characteristics, the Vernal Pool Complex is ideal habitat for many species of concern, including reptiles, amphibians, and migrating water- and song-birds. Its wetlands filter water into the Little and Batson Rivers.  Interspersed with wetlands, brooks and tributaries are forested uplands that reforested after the 1947 fire, and fields that are remnants of a farming past,.  Along with habitat protection, SVLT will practice careful forest management to improve forest health and provide funds for land stewardship into the future. 
The newly acquired 40 acre parcel, and a planned acquisition of an adjoining 50 acres, have so far received foundation support from the Davis Conservation Foundation and Fields Pond Foundation, as well as a donation from Saco & Biddeford Savings Institution.
In the coming months, Saco Valley Land Trust will be reaching out to local businesses and residents, asking for financial support of this project.  Will you make a donation now?